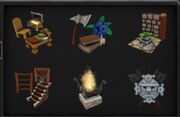 The Construction and Build Menu is how you can select and place the many objects of the game around your settlement to be built for decorative or defensive purposes.

Current Work in progress- Will be finished soon
Furniture, defence and Work Stations complete thus far. Lights 50% complete.
Furniture are objects that can be used by dwarves or storage for them.
Work Stations are objects used with the Skills of the Dwarves.

Lights are Decorative items that currently have no use aside from aesthetic purposes.



Defensive Structures are constructable objects that assist in defending your settlement from monsters or invaders.